Thursday, October 11, 2018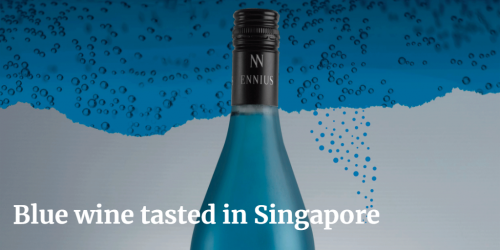 I have read some time ago that in Spain someone was producing a wine blue in color. I thought it is some enologist laboratory experiment and I didn't expect to find it on the shelves of a Singapore wine shop. Obviously could not resist and I've got one bottle (price point helped, only 19 SGD equal to 12 Euro).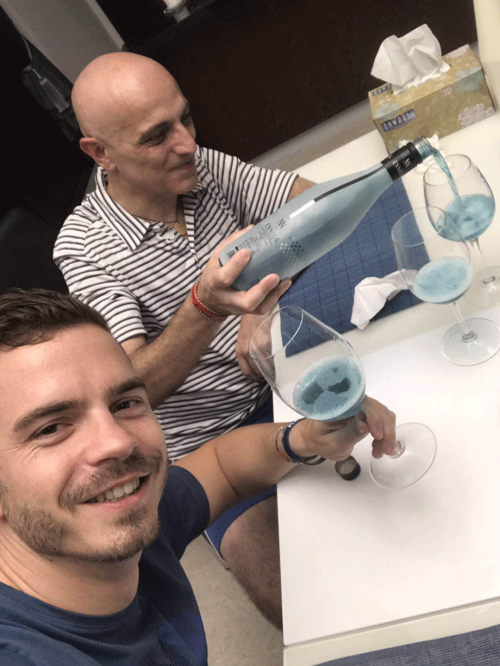 Happy to surprise my friends and open this fizzy sweet Blue Moscato, less happy after we tasted it. On the label it is 5.5% alcohol (quite normal for a sparkling Moscato) but the taste was too sweet, it felt more like a juice and little to do with wine. The back label says "Sparkling sweet – aromatized wine cocktail – Product of Spain", there is no mention to classification therefore I suppose it is not a DO wine (Denomination of Origin).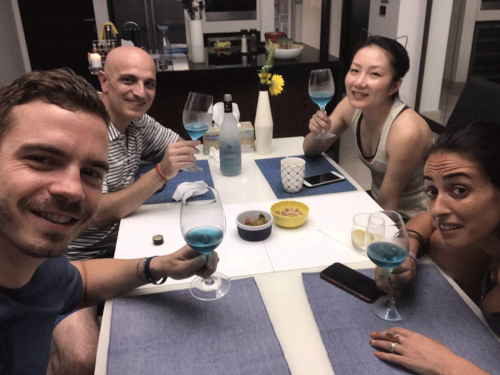 We remain with the question: is this a real blue wine or a juice???
Curious I search on internet some reference on "blue wine":

WORLD'S FIRST BLUE WINE GOES ON SALE
21st July, 2015
Keen to push beyond the realms of red, white and rosé, a group of young Spaniards have broken the mould with the launch of the world's first blue wine.
Six entrepreneurs in their '20s have invented Gik, a bright blue wine from Bierzo in northwest Spain made with red and white grapes.
The wine took two years to develop in collaboration with the University of the Basque Country and Azti Tecnalia, the food research department of the Basque Government.
A base wine is created from red and white grapes, then anthocyanin and indigo pigments are added to turn it blue and the wine is softened with sweeteners.
[…]
FRANCE'S FIRST BLUE WINE LAUNCHES AT FRIEZE
3rd October, 2017
The first blue fizz made from French grapes will be launched at Frieze art fair in London this week, and its makers claim that it "tastes better than Champagne".
Eden is made from Chardonnay grapes from Provence and has a high dosage of 38g/l. It is said to offer aromas of "white peach with hints of passion fruit".
[…]
BLUE WINE TREND HITS FRANCE
1st August, 2018
French entrepreneur René Le Bail is on a mission to turn his fellow countrymen into a nation of red, white and blue wine drinkers with the launch of 'Vindigo'.
Last May Blumond, a 7% abv 'wine' made from a blend of Prosecco, blue curaçao and peach sparked outrage in Italy, where it was called an "insult" to tradition by Wladimiro Gobbo, a member of Italy's Sommelier Association.
[…]