Sunday, November 22, 2015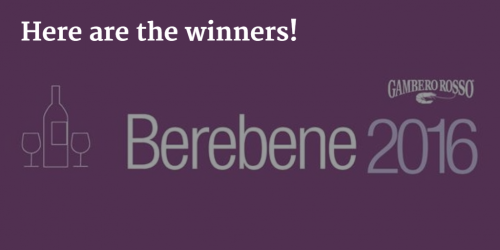 Berebene 2016 Gambero Rosso: here are the winners!
The best 6 wines of Italy, the top 21 wines for each wine region, 668 labels that have earned the Oscar Quality/Price: these are the awards of Berebene 2016 by Gambero Rosso which selected wines strictly under 10 Euro on the shelves.
National Oscar Quality/Price
We selected six labels - three white and three red to represent the north, center and south - that is the quintessence of our Berebene guide. Extraordinary wines, very inexpensive and easy to find: the best of Italy in the bottle.
White wine – North: A. A. Terlano Pinot Bianco '14 - Cantina Convento Muri-Gries
White wine – Center: Frascati Sup. Vigneto Santa Teresa '14 - Fontana Candida
White wine – South: Vermentino di Gallura Piras '14 - Cantina Gallura
Red wine – North: Barbera d'Asti Sup. I Tre Vescovi '13 - Cantina Sociale di Vinchio Vaglio Serra
Red wine - Center: Montepulciano d'Abruzzo Colle Secco Rubì '12 - Cantina Tollo
Red wine – South: Sicilia Rosso Centopassi '14 – Centopassi
For each of the 21 wine regions, we chose a label, to represent the best expression of the Quality/Price ratio.
Valle d'Aosta: Vin Blanc de Morgex et de La Salle '14 - Ermes Pavese
Piedmont: Carema Et. Nera '12 - Cantina dei Produttori Nebbiolo di Carema
Liguria: Riviera Ligure di Ponente Pigato Albenganese Ma René '14 - BioVio
Lombardy: OP Riesling Gli Orti '13 - Frecciarossa
Trentino: Trentino Chardonnay Simboli '14 - La Vis/Vaalle di Cembra
Alto Adige: A. A. Lago di Caldaro Scelto Bischofsleiten '14 - Cantina Produttori Castel Sallegg
Veneto: Soave Cl. Clivus '14 - Cantina Sociale di Monteforte d'Alpone
Friuli Venezia Giulia: FCO Friulano '13 - Marco Sara
Emilia Romagna: Reggiano Lambrusco I Classici '14 - Ermete Medici & Figli
Tuscany: Rèmole '14 - Marchesi de' Frescobaldi
Marche: Offida Pecorino Montemisio '14 - Cantine di Castignano
Umbria: Rosso della Gobba '13 - Raina
Lazio: Frascati Sup. '14 - Casale Marchese
Abruzzo: Montepulciano d'Abruzzo '13 - Bruno Nicodemi
Molise: Molise Tintilia '14 - Tenimenti Grieco
Campania: Costa d'Amalfi Bianco Terre Saracene '14 - Ettore Sammarco
Basilicata: Aglianico del Vulture Bel Poggio '10 - Martino
Apulia: 72100 '13 - Risveglio Agricolo
Calabria: Melissa Asylia Rosso '14 - Librandi
Sicily: Sicilia Sherazade '14 - Donnafugata
Sardinia: Rosato '14 - Olianas
Oscar Quality/Price
In this edition, we assigned 668 Oscar Quality/Price to wines available on the shelves of wine shops and supermarkets, not exceeding 10 Euro: oenological pearls, perfect for daily use, for a relaxed drink. Furthermore we recommend nearly 2,000 labels from good to the extraordinary level.