Sunday, November 22, 2015
attribution=setup_tool
page_id="2243186562630565"
theme_color="#8b0018"
logged_in_greeting="Hi! How can we help you?"
logged_out_greeting="Hi! How can we help you?">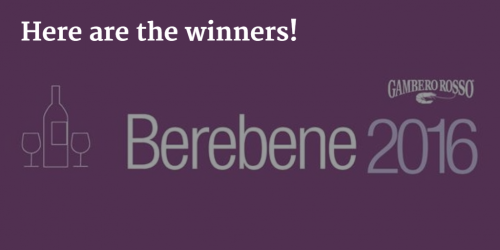 Berebene 2016 Gambero Rosso: here are the winners!
The best 6 wines of Italy, the top 21 wines for each wine region, 668 labels that have earned the Oscar Quality/Price: these are the awards of Berebene 2016 by Gambero Rosso which selected wines strictly under 10 Euro on the shelves.
National Oscar Quality/Price
We selected six labels - three white and three red to represent the north, center and south - that is the quintessence of our Berebene guide. Extraordinary wines, very inexpensive and easy to find: the best of Italy in the bottle.
White wine – North: A. A. Terlano Pinot Bianco '14 - Cantina Convento Muri-Gries
White wine – Center: Frascati Sup. Vigneto Santa Teresa '14 - Fontana Candida
White wine – South: Vermentino di Gallura Piras '14 - Cantina Gallura
Red wine – North: Barbera d'Asti Sup. I Tre Vescovi '13 - Cantina Sociale di Vinchio Vaglio Serra
Red wine - Center: Montepulciano d'Abruzzo Colle Secco Rubì '12 - Cantina Tollo
Red wine – South: Sicilia Rosso Centopassi '14 – Centopassi