Monday, March 28, 2016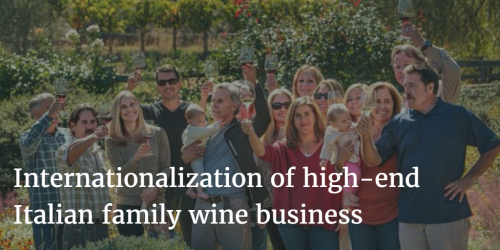 International Marketing Trend Conference 2016, Venice, January 21st-23rd 2016
"Internationalization of Family Business in High-Range Italian Wine: the Perspective of Some Italian Key Players"

Some interesting remarks extrapolated from the abstract:
Italian wine positioning
"Italy and France share the leadership of the world wine exports in 2014, with a significant difference: Italy leads in export volumes (20.5 against 14.7 million hl of France); France in revenues (7.94 billion € against 5.11 billion € of Italy). The internationalization strategies of Italian wine are still influenced by a positioning problem, expressed by the average export price: € 2.49/liter of Italian wine against € 5,4/liter of French wine, compared to a world average export price of € 2.6/liter"
[Read More…]
Friday, March 25, 2016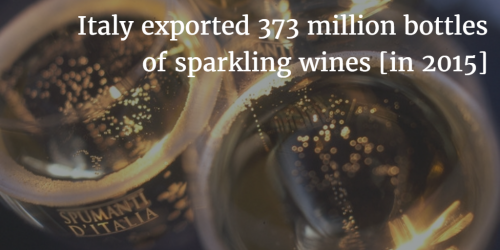 373 million bottles of Italian sparkling delivered in 90 markets worldwide
288 million bottles of Prosecco (value 800 million Euro)
+17% volume 2015 on 2014
UK is the first market for Italian sparkling wines (34% share equal 100 million of bottles), USA is the second (19%), then Germany 18%)
France confirmed the discovery of Prosecco, which accounts for 10% of all imported sparkling
-21% Asti DOCG market share (over the past 5 years)
+21% Prosecco DOC market share (over last year)
Italy is the largest sparkling wine producer: 23% share
Italy is also the biggest sparkling wine exporter: 32% share
[2015 data provided by OSVE - Osservatorio economico dei vini effervescenti]
www.ansa.it - read the full article
Thursday, March 10, 2016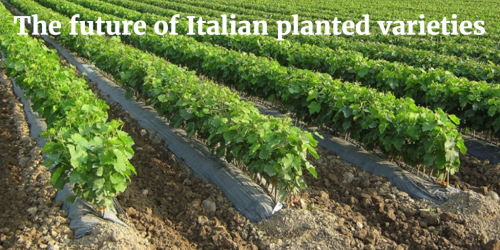 The analysis of vine nurseries production data allows to know the real supply of plants (both varieties and quantity) and to assume what will be the future of Italian wine production.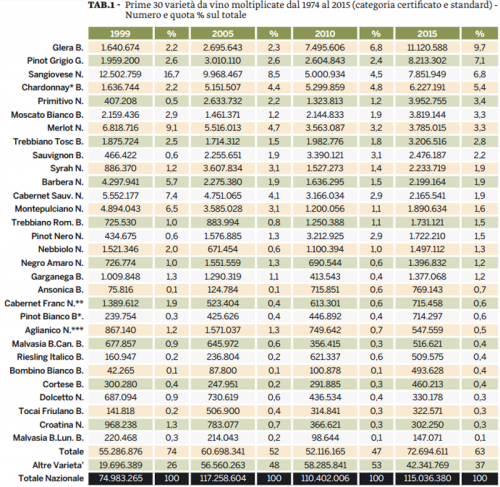 Should be noted that in 2015 the top 20 varieties feature:
11 red wine grapes and 9 white wine grapes
together they represent almost 60% of nursery production: red wine rootstocks account for 25.6% while white wine rootstocks represent 33.9%
of these 20 varieties only 8 are international (Pinot Grigio, Chardonnay, Merlot, Sauvignon Blanc, Syrah, Cabernet Sauvignon, Pinot Nero and Cabernet Fran ), while the remaining 12 are native varieties (Glera, Sangiovese, Primitivo, Moscato Bianco, Trebbiano Toscano, Barbera, Montepulciano, Trebbiano Romagnolo, Nebbiolo, Negroamaro, Garganega and Ansonica).