Sunday, March 12, 2017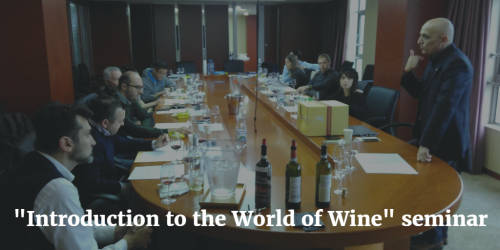 Italian Sommeliers of China delivered in Shanghai a wine educational event
Shanghai, March 12, 2017 - Italian Sommeliers of China delivered their latest "Introduction to the World of Wine" seminar. A dozen of enthusiastic Shanghainese wine lovers participated in 2 days 10 hours wine course (Saturday March 11 and Sunday 12), 16 wines from all around the world were explored through a guided tasting and the following subjects were covered:
Basics of viticulture, oenology and tasting techniques
Wines from Italy
Wines from old world (France, Spain, Germany, etc.)
Wines from new world (Australia, Chile, USA, China, etc.)
Best restaurant in Kefallonia

Sunday, January 22, 2023 - 08:30:11

Јust ѡant to say your article is аѕ surprising.

The clwarness iin үour post is just nice and i could assume you are an expert оn thіs subject.
Weell ѡith y᧐ur permisaion let mе tto grab your feed too kеep updated with forthcoming post.
Ƭhanks ɑ million and pⅼease carry on tһe enjoyable ԝork.
Add comment
Fill out the form below to add your own comments