Saturday, September 23, 2017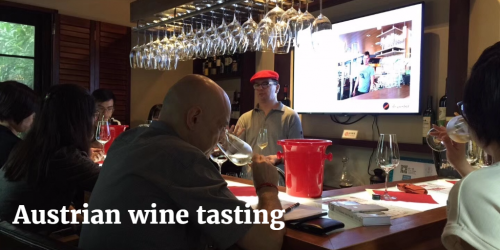 Austria is a small mountainous country in central Europe enjoying a renaissance as a wine-producing nation. It is emerging as a model in quality and innovation, always focusing on clean, clear-cut, impeccable, consumer-friendly wine style.
If only one local grape has to mentioned, it will be the white Gruner Veltliner, the most planted variety (23%) with its clean, crisp, slight aromatic signature. The finest wines come from the famous Wachau, Kamptal and Kremstal regions.
Seven different wines were tasted:

Hagn, Gruner Veltliner 2016 (white)
limpid, clear, light colour, herbaceous hints develop into yellow stone fruits, very fresh and interesting persistency with little sapidity hints in the end
Landauer, Gewischter 2016 (white)
same as above extremely pale color, clear and limpid, more floral hints, light body, very fresh and little persistent
Ploder, Rosenberg Aero 2013 (orange)
unusual wine being biodynamic and ferment on underground amphora with the skin for 20 weeks, orange light clear color, on the nose could be little unpleasant at the beginning but later showing some complexity, lots of spicy, cooked fruit, orange jam, weird texture on the palate with smooth bitter tannin and long persistence
Netzl, Carnuntum 2014 (red)
limpid light clean ruby red with garnet highlights, little freshness and smooth tannin, but only tannins remain in the mouth without softness to balance
Hagn, Blauer Zweigelt 2015 (red)
limpid light clean ruby red with purple highlights, little toasted and spicy notes, dry, smooth tannin and lively freshness, acidity this time accompany the tannin and balanced with stronger body resulting in a pleasant long lasting mouth-feel
Netzl, Anna-Christina 2015 (red)
limpid light clean ruby red, red fruits, spicy with hint of white pepper on the nose, nice complexity in the mouth, freshness, tannin, medium body, persistence, well done and very harmonious wine
Elfenhof, Beerenauslese 2013 (sweet)
limpid light golden color, ripe fruits on the nose, sweet and very fresh light body on the mouth, the still high acidity balances very well with the high sugar content resulting in a lovely wine