Tuesday, July 25, 2017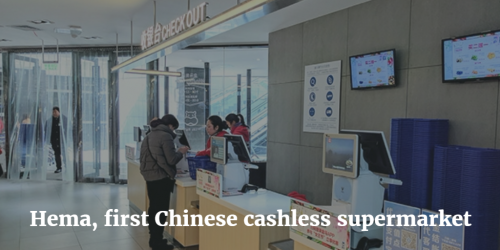 Several months we have heard of the innovative Amazon Go, a "prototype grocery store partially-automated, with customers able to purchase products without using a cashier or checkout station" (Wikipedia).
Despite delays in opening of cashierless store, in order to fix glitches in technology that automatically charges customers (The Wall Street Journal), the future ahead is clearly drawn.
Following on the footsteps of cashierless Amazon Go, China now has its own equivalent: the cashless supermarket: we could not resist going and experiencing it.
Hema supermarket is well organized, spacious, clean and tide, shelves are well stocked and the only thing is imported goods selection could be improved. We browsed the imported wine selection to mote that price are fair average market price, some wines such as New Zealand Cloud Bay are bit overpriced while Italian iconic wine Sassiccaia is a bargain.
Perhaps the most eye-catching section of the store is the fish counter. We could purchase live king crabs, lobsters and just about any other kind of fish from the tanks and then we could simply buy and take home or have them cooked on site and take home or eat them right in the dining area.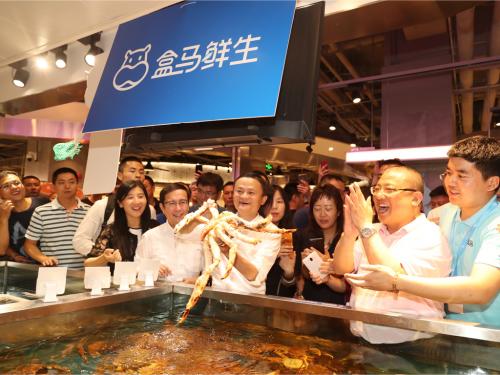 (Alibaba Chairman Jack Ma hand-selected a lobster)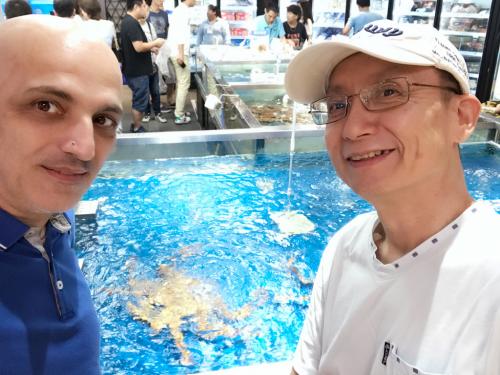 (Was the same Jack Ma's lobster?)
While we were shopping we noticed Hema employees hurry around the store with mobile devices, picking up vegetables and other products from the shelves, stuffing them into shopping bags, place them on hangers, these bags then are lifted off by overhead conveyor belts and sent off to delivery department. Effectively, the company's offline stores double as the warehousing, sorting and delivery center for its online supermarket.
B2B, B2C, C2C, and other abbreviations can be confusing at first for people new to these industry terms. Then it comes O2O and Hema supermarket is the best explanation of that term, is what we can imagine as a seamless blend of the "online to offline" shopping experience (Alibaba CEO Daniel Zhang said). In fact the "new experience" supermarket allows us to online shopping from the comfort of our homes, using a mobile app. If we prefer the in-store experience, we could visit the supermarket (as we did it) to hand-select fresh food.
Hema stores do not accept cash! Payments have to be made through Alipay app. Using a cashless payment system means the company can gather consumption data to track and analyze customer behavior.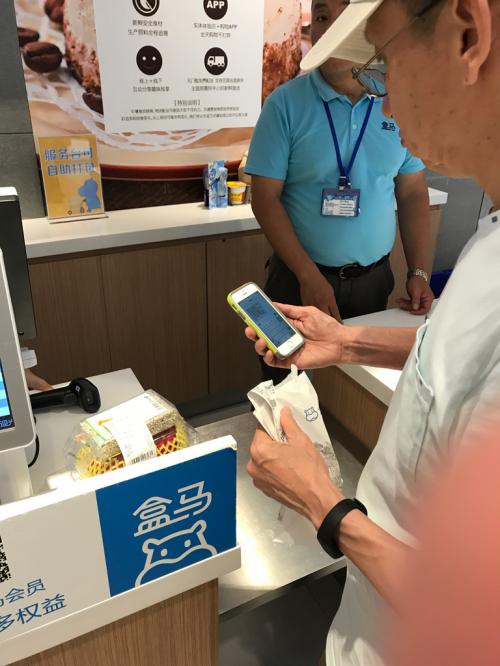 (Mr. KoYi settling checkout with smartphone app)
Every item has a scannable bar code, which yields price and product information, including origin and any backstory on the item.
In our opinion the overall experience was nice but not as impressive as we expected. It is a bit awkward to see people shopping scanning everything with the smartphone and not carrying a trolley. We bought few items just for the sale of trial and once we were at checkout the cashier scanned our items, payment took few seconds, and everything was so smooth that we didn't need to talk with the woman at all.
Security might be an area for improvement as nobody looked neither checked if we have paid the few items we were carrying on our hands from the checkout to the lift (cashierless and cashless store security and fraud are topics widely discussed online).
"Alibaba does not plan for Hema to become a large grocery chain, instead it is meant to serve as a proof-of-concept for its new retail model" (Alizila said).
And here some facts to support that effort.
Chinese consumers have been early adopters of the cashless lifestyle using mobile payment platforms for literally everything: Chinese spent an estimated $5.5 trillion through mobile payment last year alone - roughly 50 times the amount in the USA, according to the Financial Times.
"Some analysts expect Alibaba's strategy to go after China's large number of consumers who still shop offline. China online retail market is still under-penetrated at the rate of 15 percent of total retail market size, and Alibaba has an 11 percent market share of China's retail sales" (CNBC)
Hema is a good trial in the effort of tapping that 85% of the offline retail market!
Add comment
Fill out the form below to add your own comments